Contexts and conditions that are critical to consider for practitioners working with Multilingual Learners.
Authors: Lisa White, Rebecca Bergey, Heather Quick (American Institutes for Research®)
The context and conditions in which you engage and support Multilingual Learner (ML) children and their families are critical to consider; they influence the implementation of the best practice strategies outlined in this Toolkit. Your unique context may differ depending on the age and language background of the children and families you serve, as well as the local program, school, and district policies and approaches. Being mindful of these differences is important as you plan and implement instruction.
How linguistically diverse is the classroom? While Spanish is the dominant language of ML children across California and the nation, ML children come from diverse linguistic, social, and cultural backgrounds.

11

 Many classrooms are "superdiverse" and made up of children with a wide range of language backgrounds.

12

 While educators may not speak the language or be familiar with the culture of all their children, they can still acknowledge and celebrate the diverse language and cultural assets of all children.13 There is further diversity among ML children with disabilities, who often need additional targeted supports (see here for the CDE-published

California Practitioners' Guide for Educating English Learners with Disabilities

). Instruction should always be tailored to the age and developmental level of the individual children in the classroom.

What is the institutional context? Children ages 3–8 learn and develop in very different institutional contexts. The early childhood system and the K–12 system have differing pedagogical roots, governance and institutional systems, policies, approaches to teacher preparation, curriculum/instructional foundations, and standards. Teachers of young MLs need to understand the continuum of language and cognitive development, as well as how to instruct MLs within the local program and school system in which they teach. Preschool teachers are generally more able to focus on play-based and informal interactions as opportunities for supporting language development, and they have more flexibility in shaping curriculum and instruction. They can draw on resources like the

California Preschool Learning Foundations

 for guidance about curriculum content and developmentally responsive instruction. Teachers in grades K–3 are responsible for teaching grade-level curriculum and addressing standards—and ensuring that all children have an equal opportunity to participate and master those standards. Instruction for MLs takes place through both Designated and Integrated English language development (ELD) time in which teachers are guided by standards for academic content and ELD.
What language model is being used? Critical to MLs' successful learning and language development is having an intentional, systematic approach based on community context, program goals, and educator capacity. Specific instructional strategies should be intentionally chosen and used consistently within the context of the program's language model (see Common Language Models). The way in which teachers use certain strategies will differ depending on the language model in use. For example, the use of the home language will look very different in a dual-language immersion program compared to a structured English immersion program. Even the language models themselves may look different in preschool versus K–3 settings, though the overarching goals may be similar. Click here for a list of the most common language models for ML children.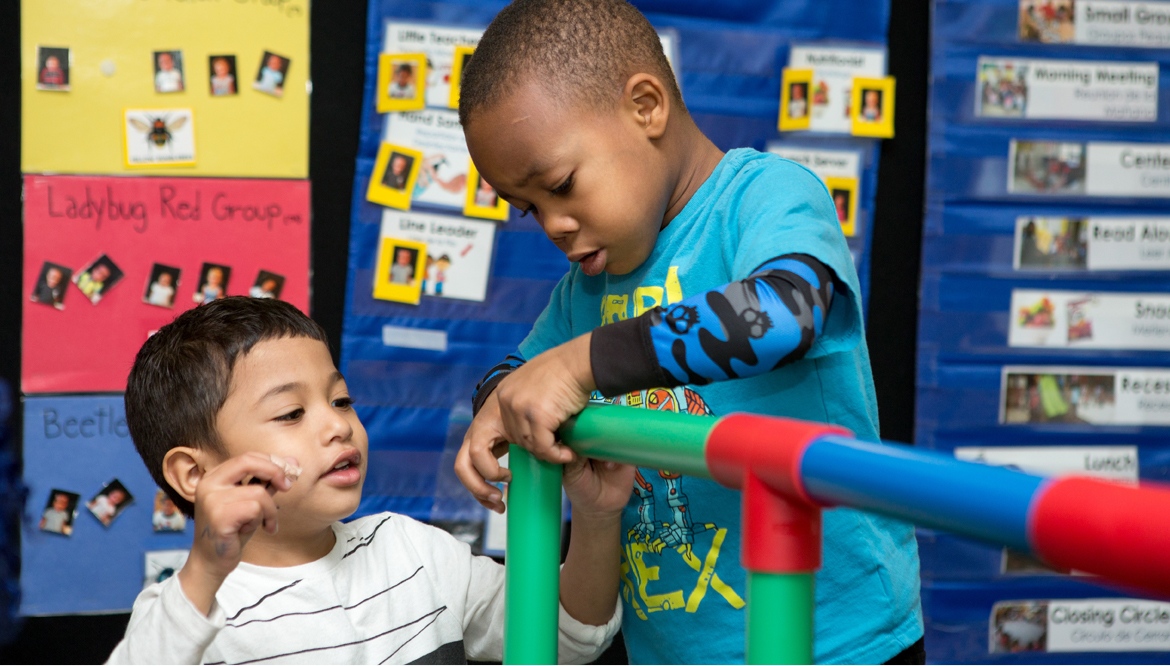 Allison Shelly for EDUimages
Credit
How accessible to all children are the learning opportunities? Regardless of the language model being implemented, classrooms need clear routines and processes that support integration of language and content learning.

14

 Instruction should be intellectually rich, developmentally appropriate, and integrated across language, literacy, and content learning (as described in the

English Learner Roadmap

,

English Language Arts/English Language Development Framework

, and the

CDE Preschool Program Guidelines

, Chapter 6). As these resources describe, MLs succeed when learning opportunities are accessible to them through multiple instructional modalities, when there are varied opportunities to demonstrate learning, and when they receive additional individualized supports.

 
Download the Multilingual
Learning Toolkit Overview
Click the buttons below for a printable PDF version of the Multilingual Learning Toolkit Overview available in both English and Spanish to reference anytime you're offline.